Hi all, Long time no post. I know. I'm sorry. But I'm back though.
Ok, today WAS really great. Crocheted a little while this morning while I listened to Rush in my tent. Then later on I went out and prepped my hay stack for another 3 tons of hay coming soon for my horse. Then I took a couple pics of my moms dog and my amazing horse.
First Picture: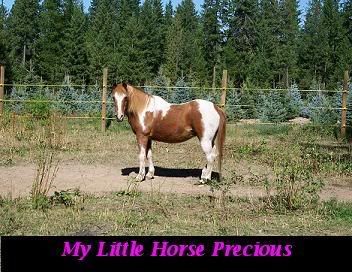 Precious is my amazingly awesome, over 25 year old horse. She's been my best buddy for over 5 years now. I don't know what I would have done without her these past 5 years. She's been my sanity (If that makes sense).
Second Picture:
Griz (aka grizzly bear) is my moms dog. He loves her and really is like a big lap dog. We all love him and I always feel safe whens he's around. I know that he'd die for me or any of us if he had too.